As the gold standard in anti-aging skin care, we recommend a retinol program to all of our clients.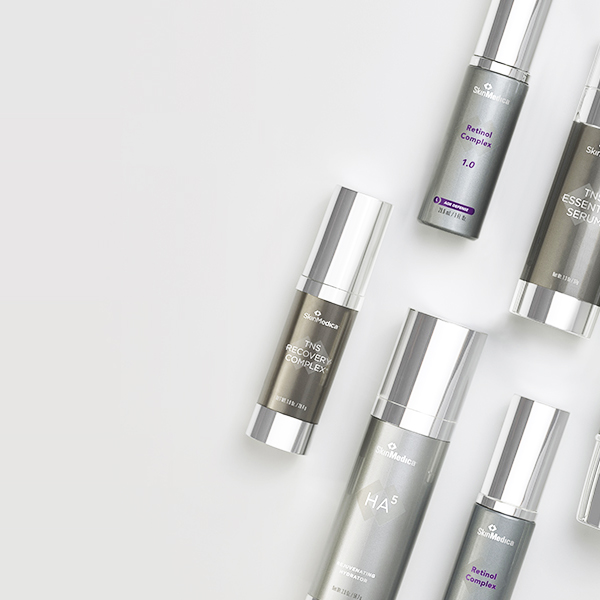 What are retinoids?
If you have met with Dr. Sweeney for a skin care consultation, she has most likely mentioned her favourite active ingredient, retinoids. Retinoids are a class of compounds derived from vitamin A known to be the golden standard in anti-aging skin care.
Our Recommendation
We often recommend SkinMedica®'s retinol products to our clients as they come in different strengths to suit individual needs: Retinol Complex 0.25, Retinol Complex 0.5 and Retinol Complex 1.0. All SkinMedica® formulas are backed by years of research.
Although there is no one size fits all for retinol strength, we recommend starting with a lower percent product every third night and working up to the higher strength formulas every night (ideal). As research shows that retinol formulas with as low as 0.1 percent strength have a positive clinic effect on the skin, remember to listen to what your skin is telling you and not push it with products of higher strength or seemingly "better" retinoids. The best retinol product for you is the one that your skin responds well to.
Why is it hard to start using retinol?
There are a few weeks when beginning to incorporate retinoids into your skincare regime when you're going to want to call it quits, but don't! Retinoid results are incredible—once your skin gets use to them. The period when your skin is getting used to the effects of retinoids, or the retinization; redness, irritation and peeling may occur. We highly discourage the stopping and starting of this product due to any of these side effects as your skin needs consistency in order to truly become accustomed to the retinol.
What else do I need to know before beginning my retinol program?
To learn more about the do's and don'ts of retinol and how to start your retinol program, click here. Or click here to book your skincare consultation.
---
Want another great read?
To learn LiveYoung Medical's Skin Care 101, click here.