Goals for Skin Care at Live Young
Cleanse, hydrate, treat and protect.
Our goal at Live Young is to help you achieve healthy, beautiful skin you are proud to show off. Clear, smooth, hydrated skin has a significantly positive impact on how we feel about ourselves. Imagine skin that does not require the use of makeup to hide imperfections, but simply to enhance your best features!
Your home skin care regime is important in terms of skin correction, protection, and maintenance as well as a means to compliment and support the treatments you receive in our clinic. Through a combination of advanced technology and expertise, we are able to effectively treat conditions such as acne, rosacea, hyperpigmentation, solar damage, dry skin, and general aging, fine lines, and wrinkles.
Our product lines provide you with skin treatment that is the best science has to offer. They have been carefully selected for their active ingredients in concentrations available only through a physician's office. This does not make them more expensive, but it does make them more effective. At present we recommend A range of options from the following skin care lines: ZO, Alumier, colorscience, SkinMedica, Skinceuticals and Proderm. We need this scope to offer the best active ingredients to out patients.
We like to keep things simple. Our products are North American and European-made, they are not tested on animals, and when possible contain no added perfumes, dyes, talc, or parabens.
As specialists in offering solutions for skin problems on both the face and the body, we look forward to customizing a skin care program to meet your unique needs either as a stand alone or in support of skin treatments you have received.
Before and After: Skincare, Peel Series and Sunscreen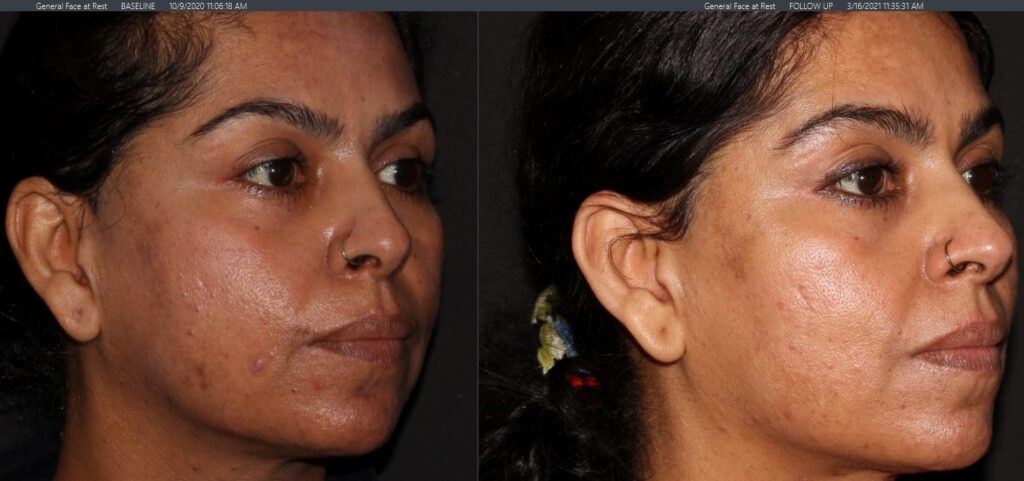 At Live Young, we recommend everyone use effective UV protection.  We offer mineral sunscreens which are a physical barrier to the suns harmful rays.
Our sunscreens come in a variety of tints and textures to suit all skin types for men, women, and children. We offer both mineral powder sunscreens and moisture-rich formulas enriched with antioxidants and other active ingredients designed to soothe and protect sensitive skin, acne-prone skin, and rosacea. They contain no talc, petroleum, or other harmful ingredients. They are so safe they can be applied to freshly treated skin. Because these products are so clean they do not cause eye irritation or a bad taste. They are cruelty-free and where ever possible are safe for our environment.
Total Defense & Repair: This is not your usual sunscreen. TDR can reverse sun damage, reduce the appearance of fine lines and wrinkles, and works to even the skin's texture and skin tone. maintain the benefits of clinical procedures. More than a sunscreen; it's a rejuvenating superscreen, powered by SOL-IR advanced antioxidant complex, provides UVA & UVB protection in a lightweight formula. Comes in tinted, clear and waterproof. 
colorescience® sunforgettable® mineral sunscreens provide long-lasting coverage in UV and visible spectrums as a loose tinted mineral brush-on powder that can be used on the hairline and over makeup, or as a light makeup. Additionally the powder lasts well through sweating and swimming. It is perfect re reapplication "on the go" as it is applied with a brush so your hands don't get slippery.
colorscience® even-up™ 4-in-1 broad spectrum SPF 50 is ideal for people who are prone to sun spots, age spots, and hyperpigmentation. Its silky smooth, lightweight, tinted formula contains LUMIRA™ brightening complex, which is a medical-grade ingredient designed to target pigment at the cellular level.
colorscience®- all calm™ helps soothe and calm sensitive skin while instantly neutralizing redness and its chemical free, mineral 50 sunscreen provides protection against #1 trigger of redness and rosacea. Use under Sunforgettable Brush-On Sunscreen for additional protection.
The Benefits and the Ingredients
Live Young is proud to offer active ingredients through our skin care lines
Petroleum-free moisturizers which are designed to meld with our skin's natural lipids and oils.
• PH-balanced skin cleansers – we offer a gentle formulas suited to all skin types; no toner is necessary. As well as cleaning pads and an exfoliating polish.
• Glycolic acid – for exfoliation and collagen boosting, to minimize pore size and fine lines.
• AHA + BHA + other natural acids –safe combinations  for treatment of active acne and hyperkeratosis (dry, dull, bumpy skin).
• Topical anti oxidants such as CE Ferulic and Vitamin C in a stable, non-oxidizing formulation with superior skin penetration – a powerful antioxidant which brightens skin, boosts collagen production, and enhances the protective effect of your sunscreen.
• Retinol/Vitamin A – Considered to be "The Gold Standard" in anti-aging skin care, retinol penetrates into the dermis allowing optimal cellular turnover, facilitating collagen production, and reducing fine lines and pore size. Retinol to date remains the most effective ingredient not only in terms of reversing solar and intrinsic aging (for example, that crepy skin on the inside of your arm), but also from a preventative standpoint in terms of its ability to protect against collagen and elastin loss, excess keratin protection, and skin cancer. It also plays a pivotal role in treating hyperpigmentation and acne.
• Peptides such as Argireline and Matrixyl and Triple peptide Neck repair – non-irritating alternatives or additions to retinol which stimulate collagen production and are safe for everyone, including women who are pregnant or breastfeeding.
• Plant-derived stem cells – protect our stem cells to the dermal level from free radical damage, UV and oxidative stress, and inflammation and are particularly beneficial to people who are outdoorsy, exposed to UV a lot, or prone to inflammation
• Plant-derived growth factors – proteins that regulate and proliferate cellular growth, penetrate the epidermis to promote skin tissue repair and regeneration, reverse the signs and symptoms of both intrinsic and extrinsic aging.
• Serums – the most effective way to deliver active ingredients deep into the skin. Many serums are available to be included into a customized skin care regime based on individual need.
• Hydroquinone and other lightening ingredients for hyperpigmentation due to melasma, post inflammatory hyperpigmentation, aging and sun spots.
Not sure what options are best for you? Book a consultation we will love you help.