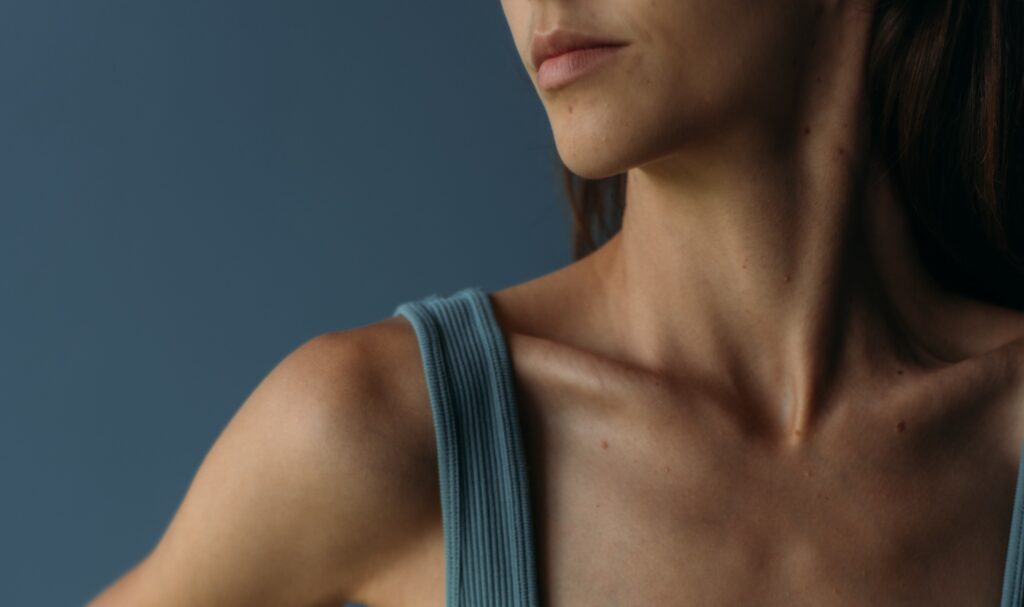 When we see ourselves or others, faces are usually our main focus of attention. Many people take measures to protect facial skin from the sun, most use some skin care and others have taken further steps to prevent or reverse aging in the face.
Awareness of our neck can come on suddenly and changes in the neck can outpace the face for several reasons. The skin is more delicate and vulnerable to sun and weathering, this would surprise many, and the skin is constantly folded and creased when we look down and around- aka "Tech neck".
Here are a few suggestions to set things back on the right track.
Quick fix- results in weeks:

Botox® Cosmetic for necklace lines, platysma bands and the jaw sharpening Nefertiti lift.

Juvederm® VOLITE- hyaluronic acid skin booster- to hydrate and
smooth the skin and to fill in necklace and sleep lines.

Almost quick- results in 6 weeks:

Sculpting with CoolSculpting® which gently freezes the fat in the upper neck for a natural contour under the chin and jaw line.

BBL laser series for photo rejuvenation addresses discolouration and dullness from sun spots and "broken" blood vessels.

Skin health with a medium time line- 1-3 months

Secret RF uses microneedling radiofrequency for improved skin texture,

tone and elasticity by building your skins own foundations: elastin and

collagen.


SmartXide Dot– fractional resurfacing uses laser energy rather than
radiofrequency to do the same thing. This treatment may be better
for those with more advanced sagging and leathering of the skin.

At home solutions and support:

Tripeptide-R Neck Repair, SkinCeuticals®- Use to reduce visible signs
of neck aging: to reduce severity of horizontal neck lines and neck
skin crepiness. Formulated with slow-release retinol: the controlled
release makes this retinol tolerable when others can be irritating on
the neck.

TNS Advanced Serum, SkinMedica®- Use for improving skin firmness.
Formulated with advanced growth factor technology for
improvement in wrinkles, fine lines, sagging and overall texture.
Results build with continued use.

Enduring results:
Long term benefits are achieved often through a combination of
treatments and a commitment to prevention of ongoing damage
through sun exposure and other harm.
Of course all of these treatments, with the exception of CoolSculpting®, can be used on other areas such as the décolleté and the hands.