As stubborn double chins are difficult to target with weight loss, for decades people choose costly surgery or settled with doing nothing at all. At LiveYoung Medical, located just 30 minutes outside of Victoria, BC, we offer a natural solution to your unwanted submental fat.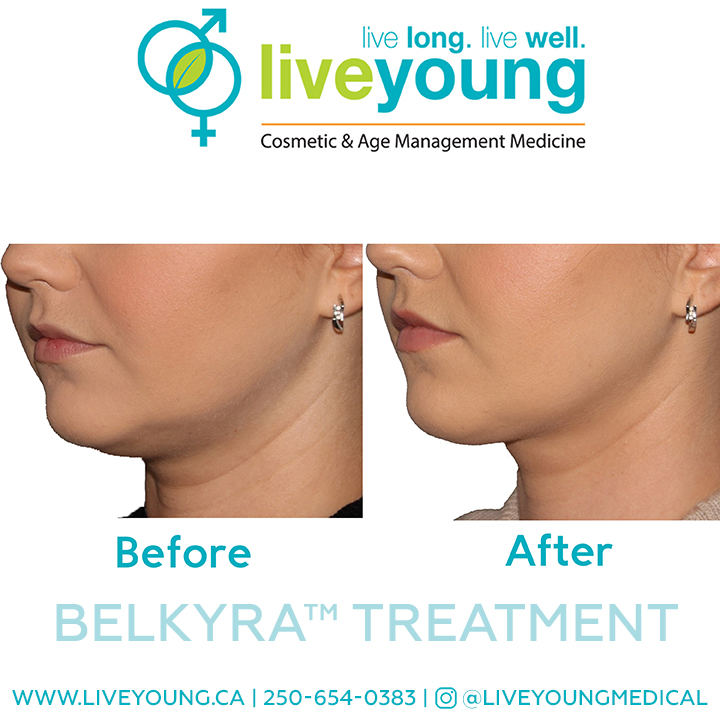 You mistakenly open your iPhone camera and are confronted with a double chin that cannot be ignored. You aren't alone—67 percent of people are bothered by under-the-chin fullness. Fat in the upper neck is often resistant to weight loss leaving many frustrated and looking for options.
In 2015, Health Canada approved BELKYRA™ for the natural solution for unwanted submental fat (SMF) in adults. The deoxycholic acid injection helps dissolve the fat under the chin to give patients a more contoured, defined look. BELKYRA™ breaks down fat cells in the area injected in the same way it breaks down the fat in food, once destroyed the fat cells do not regrow.
At LiveYoung Medical, located just outside Victoria, BC, we recommend this non-surgical, natural solution to your under-the-chin fat. BELKYRA™ utilizes deoxycholic acid, a substance naturally produced by our bodies to help with digestion and fat absorption.
---
How many BELKYRA™ treatments will I need?
For optimal results, we recommend two to four BELKYRA™ treatments spaced four to six weeks apart. Every patient is different and a clear, individualized BELKYRA™ treatment plan will be laid your upon your consultation at LiveYoung Medical.
How soon will I see BELKYRA™ results?
Typically patients see results after the second treatment; however optimal results can be seen in six treatments. Once optimal aesthetic results are achieved with BELKYRA™, retreatment is not expected.
How long are BELKYRA™ treatments?
We typically book 30 minutes for BELKYRA™ patients with treatments usually lasting between 15 minutes and 20 minutes.
How many BELKYRA™ injections per treatment?
Each BELKYRA™ treatment will involve several individual injections however, the specific number is based on the patient's amount of submental fat.
Is there any downtime associated with BELKYRA™?
For the most part, patients can resume regular, daily life post-BELKYRA ™ treatment. Side effects are manageable and can include but aren't limited to: minimal inflammation, swelling, redness, nodules, itchiness and numbness. Side effects should not last longer than two to four weeks.
What are the possible side effects of BELKYRA™?
Nerve injury (symptoms like uneven smile after treatment)
Trouble swallowing
Low blood pressure immediately following treatment (symptoms like dizziness, fainting, lightheadedness)
High blood pressure (symptoms like headache, vision problems, irregular heartbeat)
Listed above are just some of the more common side effects. For a full list of side effects please speak to your healthcare provider.
---
For seven reasons we recommend BELKYRA™, click here. To book your no-obligation consultation at LiveYoung Medical, located just 30 minutes outside of Victoria, BC, click here.