How to decide if SECRET® RF Microneedling is right for you.
The SECRET® radiofrequency microneedling is a technology that uses tiny needles to deliver energy into the skin of the face, neck and body to promote elastin and collagen genesis. These are the essential ingredients in the skin which are lost with aging and are the foundations of youthful skins firm and smooth appearance.
The SECRET® delivers radiofrequency energy through the deep to superficial skin layers using sets of 25 or 64 very fine needles to target the energy where it is needed to tighten and add volume to the skin.
The SECRET®uses a proven and safe energy technology- fractional RF microneedling. It is unique due to its ability to selectively deliver radio frequency energy at varying intensities and depth based on the patient's concern and treatment area. The SECRET® is health Canada approved.


What results can you expect from the SECRET®?
Treatment will bring back firmer tone and more even texture. The benefits are long lasting because your body has made its own building blocks – new collagen and elastin. Improvements can be seen and felt. They are:
wrinkle reduction,
skin rejuvenation such as fading of sun spots and other pigment issues,
acne scars and other scars reduction,
pore reduction,
stretch mark softening,
skin tightening.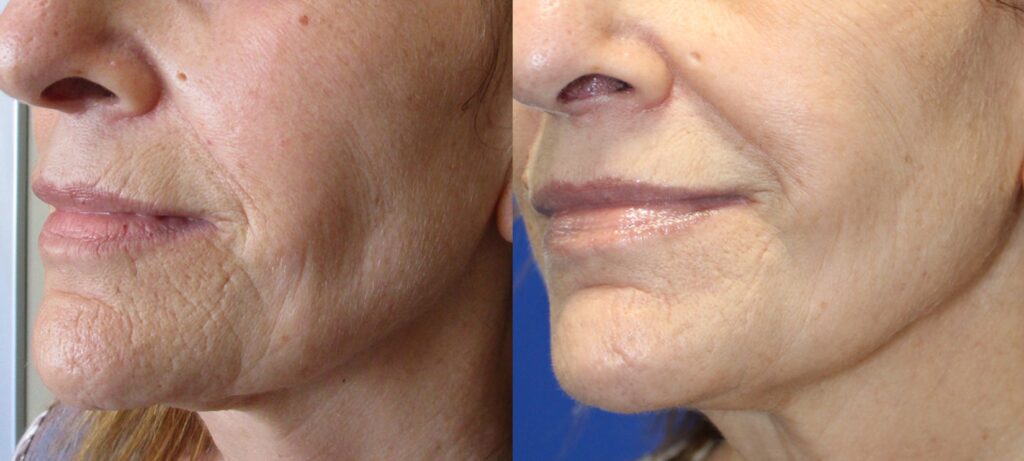 The SECRET® can be used on the face, eye lids, neck, hands, chest, abdomen, knees and other parts of the body.
How is the SECRET® RF different from Fractionated CO2 and other resurfacing tightening treatments such as Infini® or Profound®?
Medical laser treatments such as fractionated CO2 are long studied safe technologies. While both CO2 and RF can be used for scars, lines and laxity, most skin types can be treated safely and effectively with RF and patients can be treated at any time of the year –even with suntanned skin with certain precautions.
It is similar to Profound® RF which also uses radiofrequency. The advantage of the SECRET® is it performs full face tightening including the eye lids and forehead and improves the appearance of stretch marks and acne scars in addition to the other benefits described above. The SECRET® does not need the same pain control measures and has substantially less downtime- something patients have requested.
Regular microneedling without radiofrequency is a popular treatment. Adding the energy – the RF – makes treatment not only more effective with similar downtime but does so with fewer treatment sessions.
Costs are comparable to other laser and photofacial treatments and far less than a facelift or other cosmetic surgery.
What is the SECRET® RF treatment and recovery like?
Discomfort is managed using topical lidocaine and typically described as 4/10.
The treatment time is 30-60 minutes depending on the scope of the treated areas and if multiple skin layers are being treated at once.
Usual treatments are divided into 3-4 sessions. The down time is patient friendly and can be tailored to your lifestyle and commitments and is typically 2-4 days.
It is minimally invasive with downtime due to swelling and redness, the degree differs from patient to patient and treatment area.
Makeup can be used the following day.
Other effects include possible warmth, itching and temporary changes to skin sensation and needle grid pattern lasting 2-7 days depending on depth and density and location of treatment.
The new collagen and elastin production begins in the following weeks and months as your body begins the dermal remodeling process. Visible benefits are typically seen at three months after the treatment series is completed and build over the following 3-6 months.
The SECRET® can be paired with other treatments such as BOTOX ® and dermal filler for a high impact natural facial rejuvenation.
Let us help you decide.
Live Young recommends an in-depth consultation before making any decision about treatments. Each patient's needs are unique.
Start your journey to looking younger longer.
Contact us today for an appointment, info@liveyoung.ca or call 250-654-0383
SECRETRF Introductory Offer
Purchase a package of 3 treatment sessions for either – face and neck or the chest and receive a complimentary hand treatment to be used during one of your treatment sessions.
Offer must be purchased by August 28th.