In this post, Dr. Maureen Sweeney describes her consultation with and treatment of Iris, the Live Young Medical administrative assistant and person everyone meets when they come to the clinic.
During their consultation, Iris explained to Dr. Sweeney that her tired demeanour contradicted her inner feelings of vibrancy and youth.
"The way I looked did not reflect the youthfulness I felt inside. Preferring a 'fresh' face, I found myself wanting to 'cover-up' with makeup, which did not help. I started to feel more and more invisible, and I began to feel self-conscious about putting myself out there."
Iris wanted to look fresher and younger, but she did not want a surgical facelift. Dr. Sweeney provided an excellent non-surgical alternative, a complete facial rejuvenation with BOTOX COSMETIC® and JUVÉDERM® dermal filler.
Dr. Maureen Sweeney describes the procedures and treatments:
We start all treatments with a thorough evaluation, beginning with a global assessment of a patient's full face and upper neck. The first step involves assessing balance and proportion by dividing the face into the upper, middle, and lower thirds. We consider factors such as: are the patient's facial features in balance, or is one part – such as the chin – too small or recessed? Is the face too square or gaunt?
I ask what are the patient's assets? These can be features such as lips or eyes that we want to showcase.
I also ask about a patient's emotive aspects – How do they feel? What do they project to others with their facial expressions, both at rest and with movement?
Does the patient appear tired, sad, angry, saggy, worn out, unapproachable?
We ask, too, which areas are of the deepest concern for the patient? What does the patient want? It is common for us to focus on lines, wrinkles, and folds, but ultimately what we all want is to look relaxed, tighter, slimmer, more attractive, happy, and approachable. Women often want to look softer and more beautiful, and men more firm and masculine.
A comprehensive treatment approach is broken down into the following components and I will typically address each of these in separate treatment sessions.
Treatment of dynamic characteristics
Foundation
Contour
Refinement
We develop our treatment strategy by first addressing a patient's most prominent, dynamic characteristics– those movements that cause not just wrinkles and lines but unintentional communications such as appearing stressed or unfriendly.
When Iris's facial features are at rest, she looks tired and sad, and her skin appears saggy, but when she smiles, all of these expressions are reversed. This reversal is an asset that tells us that if we limit her negative dynamic expressions, such as frowning and pouting – she will look less sad. Also, elevating her brows and opening up her eye area will make her look refreshed and less saggy around her eyes.
We can achieve this improvement with BOTOX COSMETIC® treatment.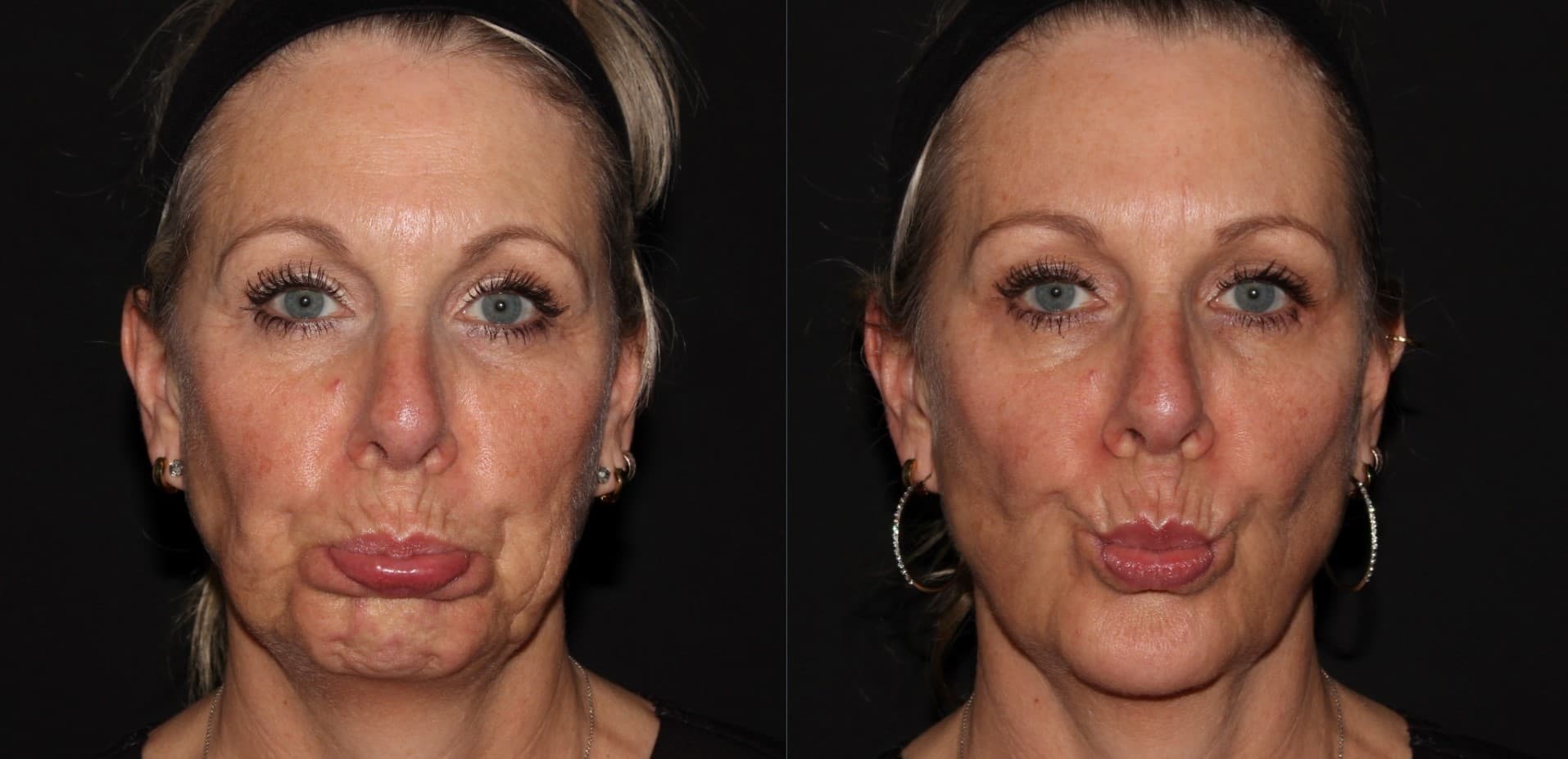 "I was excited to know that there was something other than a facelift that would help me. I trusted Dr. Sweeney to use what she felt was the best approach to helping me feel and look my best." -Iris
Foundation:
The next steps in a full face rejuvenation use JUVÉDERM® dermal filler to further address our patient's concerns and feelings about looking less tired, sad, and saggy.
Foundation treatments are those that create the most impact, as they build the structure of the face in the same way that foundations and framing define the form of a home.
Typically, in foundation treatments, JUVÉDERM® dermal filler is placed in the cheeks, temples, and portions of the chin. The cheeks and temples lift the brow, midface, lower face, and chin placements address facial proportion and shape. JUVÉDERM® VOLUMA® is the dermal filler best suited for treatments such as this, where we want lift. Foundation treatments are usually completed in session two.
Contour:
The next step, usually completed in session three, is to improve the contours of the cheek, jaw line, and chin and further address facial proportions. In both women and men, this can include defining the jaw line, improving the projection of the chin, building further height in the cheekbones, and softening remaining hollows, thus recreating the natural fullness of a youthful face.
JUVÉDERM® VOLUMA® has also been the usual treatment choice for facial contouring.
Where we need even more structure and projection such as for the jaw line and chin, we use JUVÉDERM® VOLUXTM .



"As excited as I was to have everything done all in one session, I also appreciated the staging approach. It allowed me to notice how each treatment made me look fresher than before, and I saw how the procedures supported each other. Each stage was subtle, yet enough for my family and friends to say, 'What's different? You look really good.' And I felt good, too!" -Iris
Refinement:
Refinement treatments add the finishing touches treating areas such as under-eye hollowing, lips, and nasolabial folds. Refinement is also the stage where we address asymmetry. This is often completed in the fourth treatment session.
Here, the range of choice available within the JUVÉDERM® suite are an advantage, offering softer fillers such as JUVÉDERM®, VOLIFT®, and VOLBELLA® that are best suited for the finishing touches.
In Summary:
We achieve non-surgical and natural-looking results by addressing the whole face, using a global treatment approach rather than focusing on one or two features such as nasolabial folds or marionette lines which are common bothersome areas.
Iris's BOTOX COSMETIC® treatments targeted her forehead frown lines, crow's feet, chin pebbling, and the muscles that pulled down the corners of her mouth.
Foundation treatments included treating with JUVÉDERM® VOLUMA®, over her cheekbones, temples, and chin. Contour treatment involved using a combination of JUVÉDERM®, VOLUMA®, VOLIFT®, and VOLUXTM facial fillers for further lifting her cheekbone – also known as the "top model" look, filling in lost fat in her mid-cheek area, and further defining her jawline.
The refinement touches included adding another layer to her cheeks, filling the nasolabial folds and under-eye hollows, and plumping her lips using JUVÉDERM® VOLUMA®, VOLIFT®, and VOLBELLA®.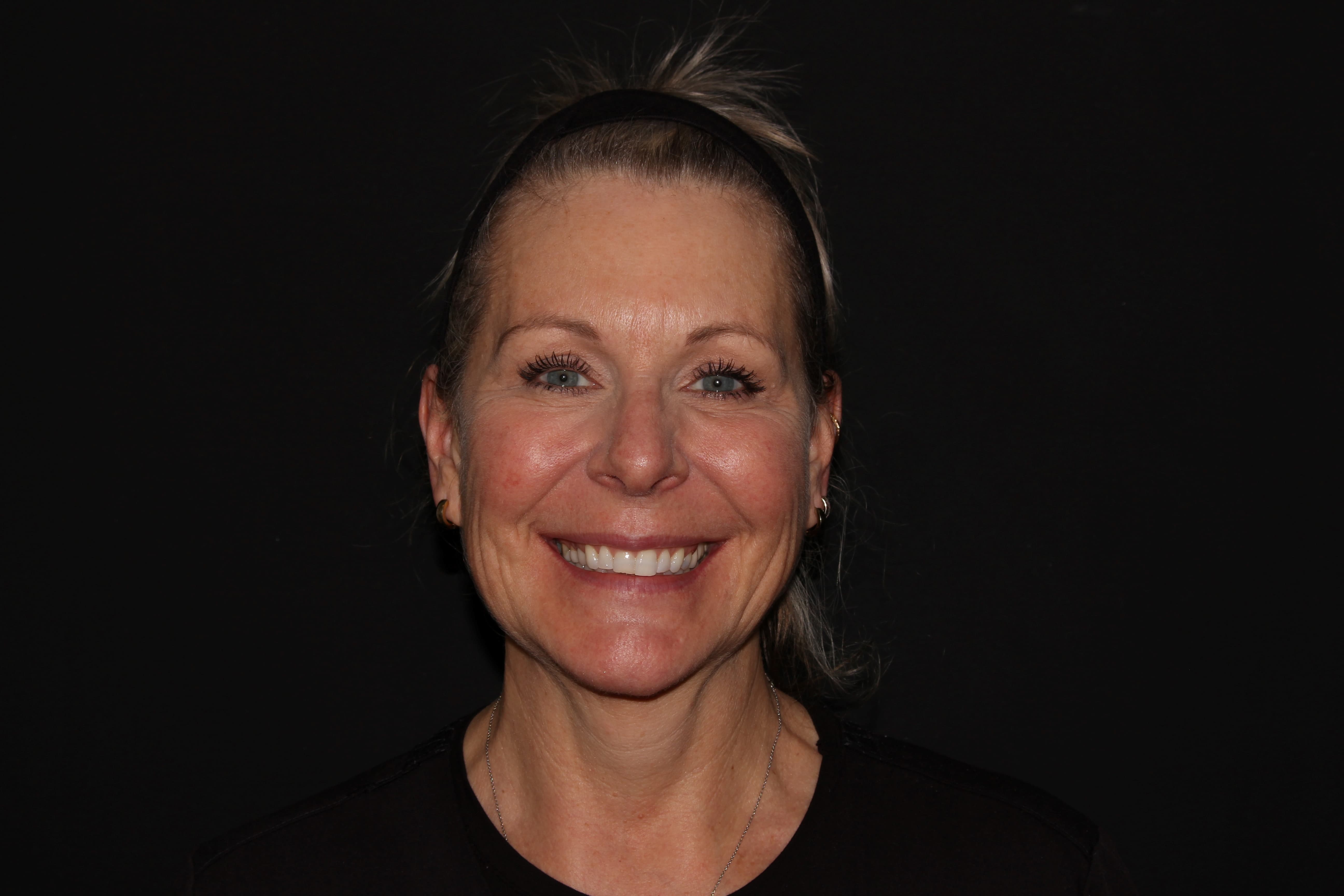 "I feel happier about myself now because maturing gracefully, to me, means taking care of my mind, body, spirit, and appearance so that I feel the best I can at every age." -Iris