Jowls, "turkey neck," "double chin," and skin laxity are issues many of us face as we age or lose weight. Our bodies stop producing the building blocks our skin needs to remain tight, plump, and bouncy – namely collagen, elastin, and hyaluronic acid.  Looking in the mirror how many of us lift and pull our skin backward thinking "I just need a little lift like this but I don't want to have surgery".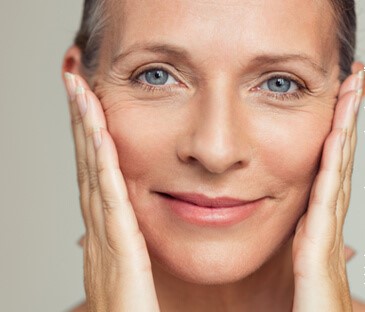 Today we have many non surgical options for prevention and for natural, minimally invasive solutions to reverse aging and boost attractiveness. At Live Young, we use safe, effective interventions to restore volume to cheek and under eye hollows, lift sagging skin, and create youthful contours to improve for lips cheeks and the lower face and neck.
Restore Volume and Create Youthful Contours for your Cheeks, Chin, "Marionette" Lines, and Under-Eye Area.
Restoration of a youthful softness, by reducing facial hollows in areas such as cheeks, jaw and the under-eye area is made possible with precise and careful placement of long-lasting biocompatible hyaluronic acid dermal fillers such as JUVEDERM™ (link to softlift or DF page).  Deep creases and folds are softened, erasing your "tired" aging appearance. Juvederm™ treatment in Dr. Sweeney's experienced hands provides a natural soft lift that can give you back the features of more youthful days. Treatment can lift jowls and sharpens the contour of a sagging jaw line. Treatment around the mouth and chin reverses a sad or angry impression, Marionette lines and creates length and prominence in a weak chin and poorly defined jaw. BOTOX COSMETIC adds further benefits for pebbling chin contours and frowning.
Tighten Pores and Reduce Lines on Your Cheeks, Chin, Jawline, and Upper Lip
The benefit that comes with Microneedling Radiofrequency (RF) treatment for your face and neck is in restructuring and rebuilding of your skin through its various layers. Live Young offers 2 forms of this technology: The Profound and The SecretRF (links). The Secret RF treats the full face and neck and other areas such as hands and chest in a 3 or 4 session treatment series. The Profound is designed to be a single treatment and as such has a longer down time. Both work synergistically with JuvedermTM Softlift.
You will notice improvement in the appearance of fine lines, crêpe skin, and large pores. In the weeks and months that follow treatment, wrinkles will continue to diminish and skin tone becomes firmer as the dermal remodeling process reaches full effect.
Other differences between these 2 RF devices is that The SecretRF  can also treat scars and stretch marks and The Profound is approved to treat cellulite and can also be used to dissolve double chin fat.
Book a consult and let us help you decide which treatment best fits your concerns.