Lift, tighten, and smooth sagging skin non-surgically with one Profound® Radiofrequency treatment and without the downtime of surgery.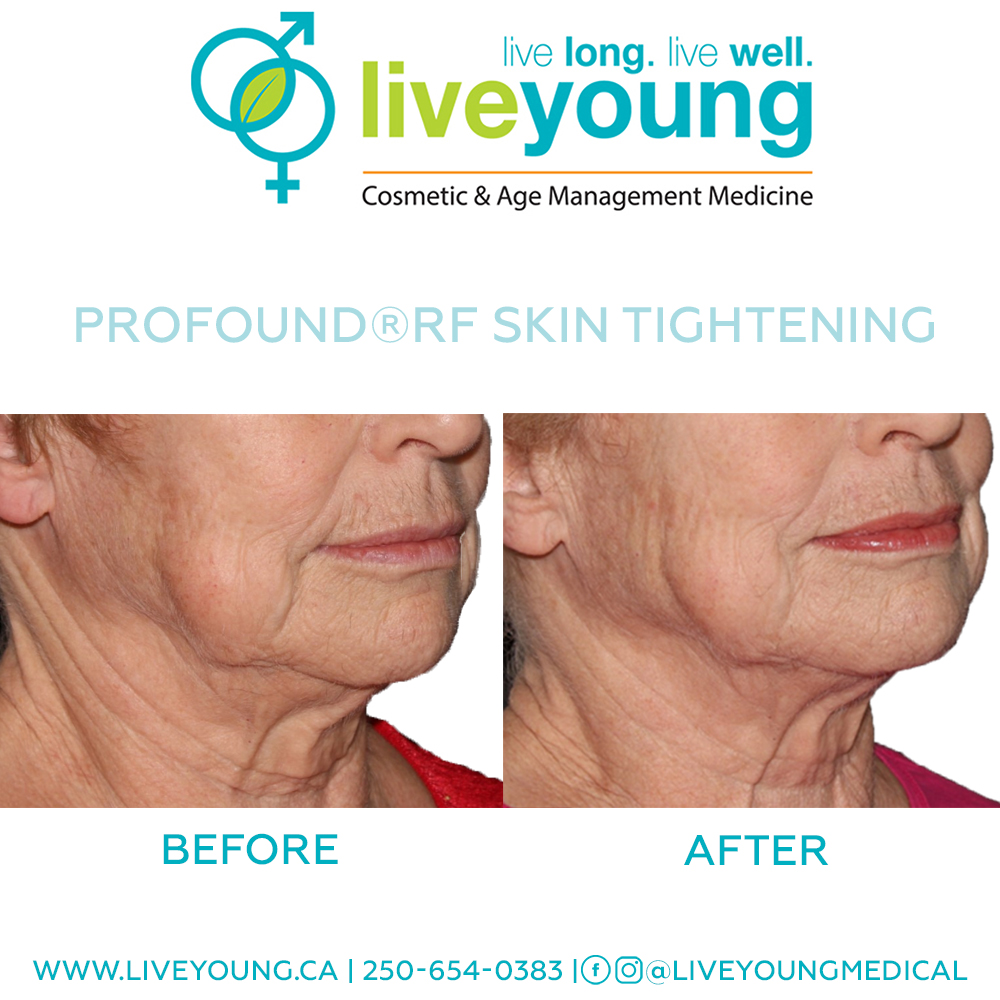 If you desire younger, firmer skin but are concerned about the downtime of surgical intervention, the Profound® RF Skin Tightening treatment is for you. Studies show more than 90 percent patient satisfaction after just one treatment with Profound® RF.
Live Young Medical in Sidney, BC, offers a minimally invasive treatment for skin laxity, wrinkles, sagging skin, and cellulite. As experts of skin health and age management, LiveYoung practitioners trust the power of Profound®.
---
What is Profound® RF?
Profound® RF uses microneedling radiofrequency (RF) technology to treat face, neck and body skin concerns, the most common being laxity and wrinkles. At LiveYoung, the focus is on both prevention and non-surgical correction and enhancement. Just one Profound® RF treatment yields, on average, 30-40 percent the result of surgical intervention.
How Does Profound® RF Work?
The technology is rather unique as it treats aging skin, submental fat and cellulite. The unique system uses microneedles to penetrate the deep dermis and delivers the energy exactly where it's needed.
The dosage of the radiofrequency delivered in these deep layers of the skin causes the body to trigger its natural healing process, increasing the production of collagen, elastin and hyaluronic acid. These three compounds are the key building blocks needed for smooth, supple and radiant-looking skin.
Benefits of Profound® RF Treatments:
All skin types can be treated safely and effectively
There is no treatment series required, one treatment provides incredible results
Recovery time is greatly reduced from traditional facelift methods
Clinically proven to have a 100 percent response rate for wrinkles
Health Canada approved treatment with minimal risks
At Live Young Medical, we understand the factors of aging and how to effectively recommend the best treatments for our patients. We trust the power of the treatments we provide on ourselves and our patients.
---
To experience the Profound® RF clinical efficacy and 100 percent response rate, book your no-obligation consultation with our team today.