In our last blog we wrote about the use of Juvederm™ dermal filler , Profound®RF , and SmartXide DOT™ to restore volume in facial hollows, improve crêpey skin, and soften deep lines and large pores. This week, we would like to tell you about two more ways to achieve lower face and neck tightening, lift, and fat reduction, all without enduring the risk and downtime associated with surgical intervention.
Reduce Fat in the Submental Area (aka "double chin")
The dreaded "double chin" or submental fullness (SMF) is a problem area that can largely be attributed to genetics and often lingers, regardless of how much we diet and exercise. LiveYoung has been performing Belkyra™ treatments for SMF for a year and a half, and we find that it is effective and well-tolerated by our patients who have been treated.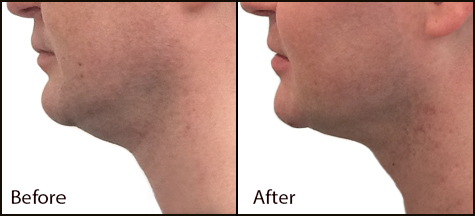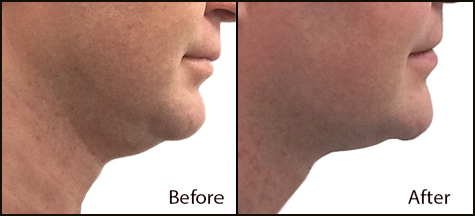 "For years I have been cultivating my beard to cover up my double chin. Pilates and weight loss have not worked even though I did lose weight. The procedure caused some swelling but nothing that 2 days of holiday beard couldn't cover up" Jamie Poll, Hair Stylist and Live Young patient.
Belkyra™, also known as Kybella™ in the US is a natural digestive enzyme - purified deoxycholic acid. Belkyra™ is given by injection to break down fat cells where it is injected, such as under the chin. Once destroyed, the fat cells do not regrow. The fat layer is treated typically as a series of 2-6 treatments, depending on size and volume of the area. Treatments are spaced about 6 weeks apart.
LiveYoung also offers Profound® Microneedling Radiofrequency(RF) to reduce localized submental fat. Profound® RF precisely delivers thermal energy where it is the most beneficial in order to permanently destroy fat cells. During your Profound®RF treatment for submental fat, the neck and jawline can also be treated for laxity. This results in not only volume reduction, but skin tightening as well. Normally, only a single treatment is needed for significant improvement – on average 30% - 40% the result of surgical intervention.
Both Profound® RF and Belkyra™ are Health Canada approved for treating submental fullness. Profound® RF also treats stubborn cellulite. Both treatments may cause temporary swelling and bruising. Fall is a perfect time to start treatment, as it is an easier time of year to cover up treated areas. It can take up to 6 months for these treatments to produce full result, so you will want to start soon to get ready for upcoming special events and holidays
Reduce Jowls, Jaw and Neck Lines and Laxity
37% of the result of a surgical lift is achievable with a single Profound®RF treatment. Heating your skin's tissue into the deep dermis facilitates a unique healing response, triggering the production of your body's own collagen, elastin, and hyaluronic acid – the three building blocks essential for skin smoothness, suppleness, and elasticity. One treatment with Profound®RF yielded a 100% response rate from patients treated in clinical trials, which means that every single patient treated experienced measurable improvement over baseline. Significant lessening of wrinkles is evident in areas such as "crow's feet", cheeks, lip and chin lines, as well as the tightening and lift of nasolabial folds, "Marionette" lines, jowls and the jaw line. Unique to Profound®RF are the benefits seen in the neck- tightening and line reduction - without the knife!
Because the benefits of Profound® RF build in the months following treatment, it is best to plan your treatment now to see your full result in 3-6 months. Bruising is a common side effect which can last 5-10 days, so you will want to plan treatment around your work and social commitments, however, keep in mind that Profound®RF is a one-time treatment! Book a consult to find out which treatment will work best for you.